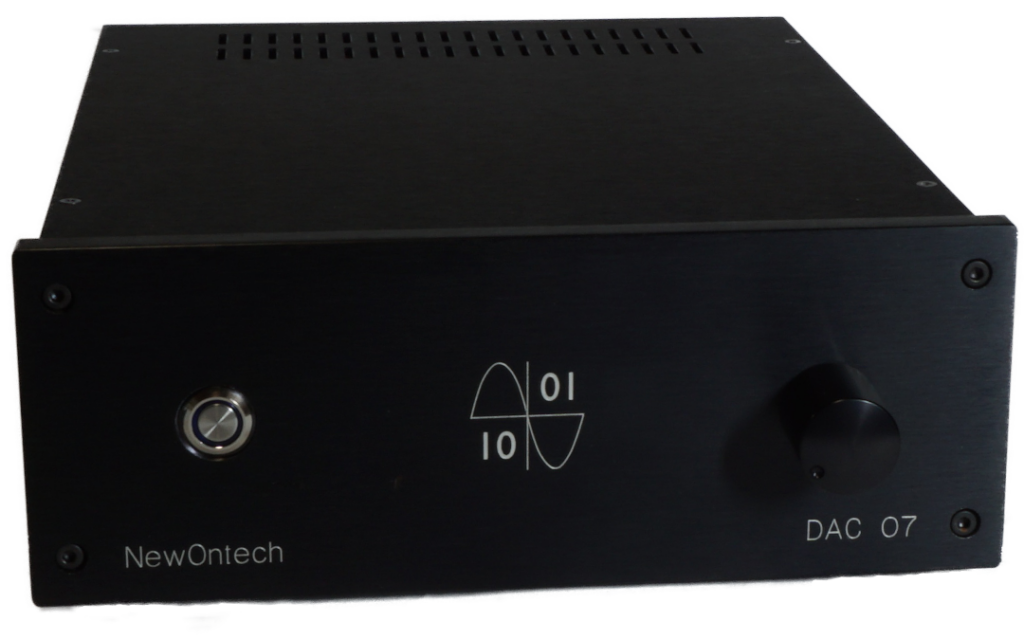 The NewOntech DAC07 is a 16/20/24/32-bit at 32kHz to 192kHz digital to analogue
converter. Incorporating an enhanced version of the NewOntech designed circuit,
the DAC07 offers the highest possible resolution over all inputs including fully asynchronous USB. Developed to be simple to set up and use, the NewOntech DAC07 is designed to optimize performance from any two channel PCM digital audio source.
With the PC now widely accepted as a credible medium for storing and streaming music, the use of high-quality lossless files such as WAV, FLAC and ALAC offer performance through the DAC07 equal to and in some cases better than Red Book CD. Great care has been taken to remove
noise generated by the PC and other input sources. (During development this was identified as a major drawback with many DAC's on the market today).
The DAC07 is housed in a custom aluminum case and using a Burr-Brown
DAC IC's, a custom designed analogue filter and one asynchronous USB, two Co-axial inputs, one BNC & tree Toslink SPDIF inputs.
The DAC07 has been designed and engineered to integrate perfectly into any system and achieve the highest performance in its class. We hope you enjoy this NewOntech product for many years to come.
Technology
The optical and coaxial input stage comprises a Crystal digital receiver. The receiver
and PLL have their own dedicated power supplies. The DAC stages comprises a Burr Brown DAC, that are driven via a buffer stage, which ensures the integrity of the data being fed to the DAC IC's.
The USB input stage is comprised of a bit perfect Amanero USB Audio 2.0 with asynchronous clocking. The USB input feeds the DAC through I2S interface, which ensures low jitter and perfect timing. The output amplifier employs a discrete differential, multiple feedback filter and output amplifier, with a high cut-off frequency for use with higher sample rates. We decided not to use a sample rate converter and process the data at the incoming sample rate which keeps the signal processing to a minimum. Jitter was minimized by synchronously clocking the digital data
with our receiver PLL (removing any jitter from the input signal).
All the capacitors associated with the analogue signal path are audio grade
bypassed with MMK polyester capacitors. The power supply utilizes a toroidal transformer, fast rectifier diodes and again audio grade capacitors. Special attention being paid to the inter IC control signals ensures the control data noise is kept to a minimum.
Power on/off. When the power button is pressed the power led illuminates.
A rotary switch selects between the 8 available digital inputs.
Backpanel input/output
Inputs
Optical Digital Input 1- Optical/Toslink
Optical Digital Input 2- Optical /Toslink
Optical Digital Input 3- Optical /Toslink
Co-Ax Digital Input 4- 75Ω Co-axial BNC
Co-Ax Digital Input 5- 75Ω Co-axial Phono
Co-Ax Digital Input 6- 75Ω Co-axial Phono
Co-Ax Digital Input 7- 110Ω Co-axial XLR
USB – Digital Input 8- Asynchronous/type B connector
Outputs
Analogue Output Left and Right Phono
Analogue Output Left and Right XLR
Power Mains/line input IEC C13 type
Fuse Fuse holder
In use
Power-up the DAC07 using the power switch on the front panel. After a few seconds you will hear an audible click from the output mute relay and the analogue audio will be active. If the currently selected input has an active source connected, the DAC will start playing music. By turning the input selection switch, you can select any one of the inputs.
The optical system used for optical inputs 1,2 & 3 is nearing its maximum at 192K. If you experience difficulties try the following: Use a higher quality or shorter lead. When using 3.5mm jack outputs commonly found on computers and sound cards etc. Try and use a mini Toslink optical 3.5mm jack connector lead and avoid using a 3.5mm to full size adaptor with a standard full size Toslink lead.
Connectivity (examples)
This page offers 'suggested connectivity'. With so many products offerings a number of options, it is important to check the manual of the product you are connecting for the appropriate or optimum output connection and settings required to operate properly.
Please note: This unit only accepts two-channel PCM digital audio. You cannot connect a Dolby Digital 5.1/7.1 or a DTS signal as they will not be recognized. If you wish to connect a DVD or similar device, please ensure that the sound output of your player is set to two-channel PCM.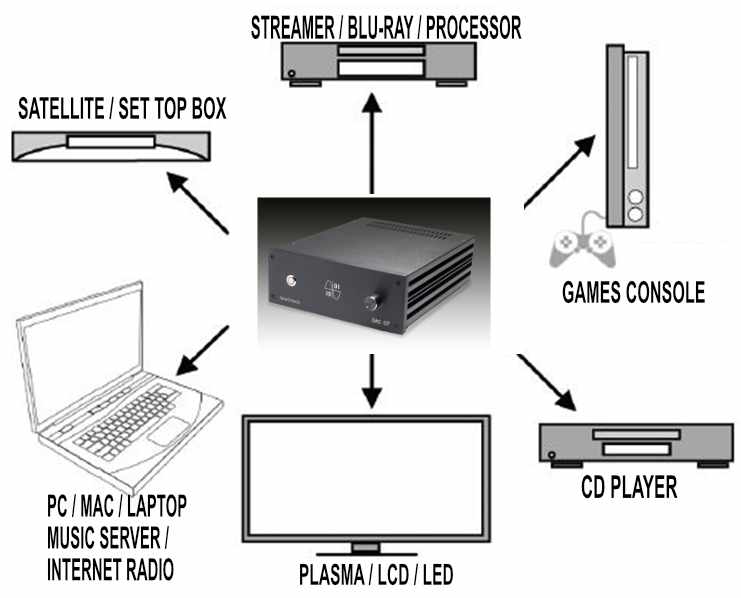 USB Setup and connectivity
Connect a USB A-B type lead (as illustrated) from the DAC USB to a USB output on your PC. IMPORTANT: Before you can use the USB function of the DAC07 you must first download the Amanero USB Windows driver and install it on your PC. This driver is available for download from the website, www.amanero.com will see the USB driver. Follow the instruction for installation. Once installed, USB will be ready to use. The driver is not required for MAC OS.
USB A-B Lead (not supplied) It is recommended to switch off any other system sounds emitted by the PC via the control panel. In some systems, the DAC07 will automatically become the default for your PC whilst connected. Once disconnected, the previous default should be restored. If this does not happen, you can manually reset as follows:
Windows Vista – Control Panel / Hardware & Sound/Manage Audio
Devices/select 'USB Audio' from list.
Windows7 – Control Panel / Sound / Manage Audio Devices / select
USB Audio
Windows 8 – Control Panel / Hardware and Sound / Sound / Advanced /
select USB Audio
Mac OS – System Preferences / Sound Output / Select 'USB DAC'.
Notes on high resolution playback The DAC07 can operate up to 192kHz when used with a capable soundcard connected via the Co-axial, optical or USB input. Due to the limitations of some operating systems and playback software, the exact configuration and set-up can vary from one PC/laptop to another and may not have a bit perfect high sample rate 'signal' path through the PC/laptop. It may be necessary to install further drivers in order to bypass the Windows Audio drivers (for example ASIO4ALL).
Select the new driver in your chosen media player preferences. In some circumstances it is possible using the sound properties panel to make the DAC run at a higher sample rate than that of the file being played, thus 'up sampling' the data rate in the DAC. (sometimes called 'bitty' software sample rate conversion).
Technical Specifications:
INPUT
Digital input: 2 X gold-plated RCA 75 ohm
Digital input: 3 x TOSKINK/SPDIF
Digital input: 1 x XLR
Digital input: 1 x USB
OUTPUT
Line output signal: 1.0V RMS
RCA and Balanced XLR
Output impedance 75 ohm
SPECIFICATIONS
MEASUREMENTS
Depth: 29 cm
Width: 24 cm
Height: 9 cm
Weight: 4 kg
POWER
Power requirements: 220-240 VAC
Power consumption: < 10 watts
Main AC Power switch on front panel
Distortion: THD+N <0.003%
Channel separation: >110dB
Level linearity error: +- 0.05dB
Sample rates: 32 KHz – 200 KHz
Dynamic Range: >120 dB
Der er stadigvæk god grund til at have en god pladespiller og CD afspiller, men de skal godt nok være på den rigtige side af lågen ind til High End klassen for at slå DAC en her. Og omvendt er der et udbud af musik, som man får meget nemmere måske overhovedet adgang til med en lækker DAC. Til formidling af al den musik er DAC 07 fra New Ontech – ja simpelthen meget musikalsk.